Supermarket takes advantage of law change to sell 'relaxing' tobacco alternative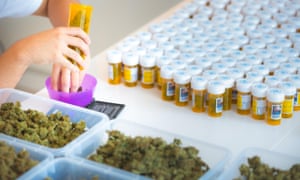 You may have heard about their cut-price stollen, and possibly their surprisingly flavoursome jam. But you probably won't have sampled the latest range offered by the supermarket chain Lidl: locally grown cannabis. (Complaint Lidl)
Two products derived from hemp flowers are being offered in Swiss stores as an alternative to rolling tobacco.
A 1.5g box, from plants grown indoors, costs 17.99 swiss francs (£13.20). A 3g bag is 19.99 Swiss francs, but is made from flowers grown in greenhouses.
The packs are on sale alongside cigarettes and cigars at the tills. The cost per cigarette is double that of tobacco roll-ups.